This place is situated at one of the most famous and beautiful squares of Orvieto. We ended up there, because it was the 2nd of May, all  on the Corso Restaurants were closed and Cecilia absolutely wanted to see the Rome Liverpool match.
So I entered a place that looks like a Fast Food Place and into which I normally would not put my foot into,  Luckily I did.
 Ok, you cannot  stay  on the second floor, they built on top of the kitchen (if you do  not want to combine eating and sauna). The eating space downstairs in front of the Pizza Oven is pretty ugly,  but if you get a place on the terrace, it cannot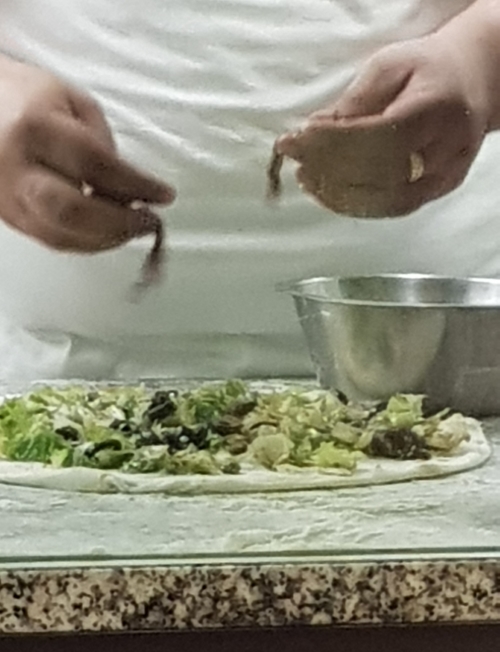 be  more  luxury with a fabulous view on Palazzo del Capitano del Popolo.  
They call themselves "Pizzeria", but they prepare not only Pizza, but also some pasta dishes and .... yes, fish and seafood in the center of Orvieto.
 Anyway the first 5 dishes we asked for, could not b e delivered...... might be because of day 1 after May 1, when Orvieto had been assaulted by Tourists.
We selected:
"an arancino 4 formaggi",  which was simply good, rice,  cheeses  and  even made with fresh frying oil.  "a tris di verdure", grilled aubergines, grilled courgette and pan fried bell peppers, freshly prepared  not overcooked, nice food. But how do they explain asking 10 € for this simple dish? 
"Pizza con la scarola" , a real dream of Naple Pizza, with Mozzarella Cheese and Anchovis and a good amount of "scarola", an Endivia like vegetable.  If you get such a pizza  you understand why "Pizza Nap
oletana" has been made a cultural heritage. 
I was very curious of  "Strofie con Nero di seppie e ricotta.  I was served a mega pasta 
portion, which was delicious.  Well, I guess the "nero di Seppia" was frozen 
(but not a great sin), the trof
ie were of good quality and correctly cooked and yes,  the 5 little add ons of 
ricotta matched very well the fishy taste of of the nero di seppia sauce.  Well, if they would have reduced the amount of tr
ofie by a quarter, it would have been still enough and the tiny amount of seppia in the sauce, would have gotten more into the taste.   But we are in a Pizzeria and people might be hungry.
Little things about the food that count:  perfect timing in the preparation of the dishes,  wonderful fresh bread (but salted, not the Umbrian one), a decent olive oil (presented in the most ugly trattoria bottles).
The fact that their house wine is form Santa Francesca Winery should have warned me, not a place to drink wine. And indeed the Falangina, I ordered ("bottled by cantina del Tufo")  was very mediocre. Drinking this and paying 15 € for the bottle in a town where you can get excellent Orvieto classico for less....... On the other side an excellent beer (Moretti 4  luppoli) from the tap.
The overall bill was  52 €, of which 25 € for the over prized items mentioned before. If you go there to have a wonderful Pizza and a beer you get away with   13 €!  Also 10€ for the pasta was absolutely acceptable.
In the kitchen and in the service people from Salerno. Nice to hear a bit of  Naple accent here in Umbria.  I really hope they will go on making business,  a spot of southern sun between sausages, boars and truffels.